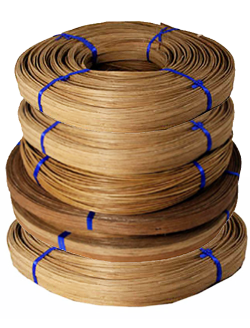 "Smoked Reed" is dyed brown reed. It's called "smoked" because this kind of reed was originally colored by a process of smoking.
*Please note that some sizes of Smoked Reed may be from different dye lots, and therefore, not the identical shade of brown.
We are proud to offer our customers Superior Quality Basket Weaving and Seat Weaving Supplies at Reasonable Prices. No "seconds". No "slightly irregular". No "slightly hairy".
Natural reed: Dyed Flat Reed Round Reed Flat Oval Reed Half Round Reed Flat Reed
Remember our GUARANTEE: No questions asked. 100% money back guarantee. "If you don't get the results & quality that we guarantee, we'll gladly give you a complete refund of your full purchase price."
---