Elementary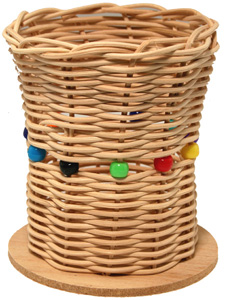 Kids Kit (makes one)
or Camp Kit (makes 20)
or Classroom Kit (makes 30)
4th graders on up really flip for this basket!
I'll usually woven it in two class sessions, 45 minutes each. During that amount of time, even with everyone working at their own speed, everyone will finish the basket.
If you've never woven baskets with kids, visit our Basket Weaving with Kids
tips page.
Tell them about Basket History. Show them different kinds of baskets.
Click here to see VARIATIONS for weaving Kids Camp Classroom Baskets
Be sure to review the sample topics integrating basket weaving with CORE curriculum.
If you want to try some basket weaving with pre-school or Kindergarten, try the styro cup method.

In addition to curriculum studies, this project is also a great gift project for Mother's Day, Father's Day, etc.
Middle School
If your students have never woven a basket, start off with a Kids Kit, as shown for the Elementary students. They'll be impressed and get a lot of satisfaction out of it.
If they have woven baskets,
you can try any of the above baskets.
Plan on a one week unit.
For their first project, everyone should weave the same basket technique. That doesn't mean the baskets will all be alike; they'll be as unique as their weavers.
Also insist that they prepare all of their supplies ahead of the weaving: that is, cutting the spokes.
Since it's "all about me" in Middle School, you might have the students embellish the baskets as self-portrait baskets- decorated with color and texture to signify what they're all about. Yarn, raffia, pictures, beads, etc.
Challenge: How can my basket reflect my personality?
High School
For High School, we suggest a two or three week unit.
Order an assortment of 1/2" flat, 1/4" flat, some dyes, some #4 round reed, handles etc. Look over the Kits page to see what kinds you like and what kind of materials they use. We'll be happy to give you some free patterns with your Purchase Order- just tell us which ones. Or, take a look at our Books.
Do a one class demo of basic structures and then let 'em loose with the patterns and supplies.
Or, how about a Basket Challenge?
Teachers Choice: based on a theme, or a material (baskets made of recycled materials??), you name it!
Awesome!
Senior Citizen Physical Therapy Weaving:
Senior Citizen basket weaving students usually find that basket weaving has shown a positive effect on their ability to maintain manual dexterity, and also as a means of warding off the stiffness of arthritis. Persons with even major sight impairment can weave baskets.
Mentally, basket weaving can also help to keep senses sharp in the same way that puzzle-making, crossword puzzles and balancing the checkbook without a calculator all require more active brain manipulation than the passive use of calculators. With basket weaving, measurements are taken as supplies are cut; decisions are made as the weaving progresses, and most of all, a deep sense of satisfaction comes with the finished basketry! I also think that the relatively short amount of time that's required to weave a basket is a good incentive for introducing this craft. Good, clean, fun!

The National Visual Arts Standards from National Art Education Association

Grades K -4 Grades 5 - 8 Grades 9 -12

Most American school systems now require alignment with the National Visual Arts Standards. Follow the links above to a complete list of each grade span with the numbers and letters for your lesson plans.
Basket Weaving can be relate to most all of the Content Standards.

We suggest: write or print the entire list for your teaching level in the lesson plan book.
Then use the appropriate number and letter in the lesson plan blocks to cross reference the Content and Achievement Standard.

For example, if for Grade 4 Art, you list "1.a." in your plan book block
as one of the Content/ Achievement keys, it will refer to:

1. Content Standard: Understanding and applying media, techniques and processes.
Achievement Standard: Students a. know the differences between materials, techniques, and processes

ALL GRADE LEVELS will benefit from the correlation of basket weaving to cultural, social studies, math, science and history in the CORE curriculum.
A few topics:
Colonial American history and use of basketry

pioneer arts crossing the prairie

Central American fiber arts

Egyptian arts

Gullah basketry

elementary debate: Is basketry Art or Function?

math patterns in basketry

basketry as structural techniques for housing

Native American use of local trees and plants for basket weaving

basketry as container design

basketry's role in the exchange of ideas between countries during the China trade years

the role of basketry in -------

a creative writing project with a basket theme, etc.

poetry- a haiku poem about a basket

language arts- alliteration, synonyms, adjectives, etc.

sing a song about a basket

play a game that involves the use of a basket, or design a game that uses a basket
The list is practically endless since basketry and fiber arts are prominent in all history and cultures. You could easily have a BASKET DAY in your classroom, with everything you do related to the humble art of Basketry.