Click here to Like us on Facebook. Receive a Coupon Code for a 10% Discount that you can use today!

Splint Weaving Booklet
$3.95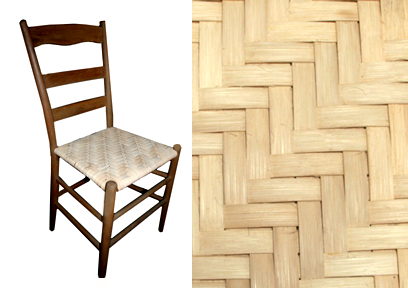 Splint Weaving Booklet with completely illustrated how-to's.
Get this booklet for re-weaving chairs in herringbone pattern with 1/2" flat reeds. One pound will weave an average seat such as the one illustration.
[BASKETWEAVING KITS] [SPECIALS] [CAMP & SCHOOL PROJECTS] [FLAT REED] [CHAIR CANE] [CHAIR CANE KITS] [FIBER RUSH SEAGRASS RAFFIA ASH SPLINTS] [ROUND REED] [BOOKS & BOOKLETS] [BAMBOO] [DYES STAINS BASES TOOLS] [KITTY SPLINE] [FLAT OVAL REED] [HALF ROUND REED] [CANE WEBBING] [HOOPS & HANDLES] [SMOKED REED] [EXTRA MATERIALS PACKS FOR KITS] [TEACHER SPECIALS] [PEWTER EARRINGS & CHARMS] [MAIL or FAX FORM]