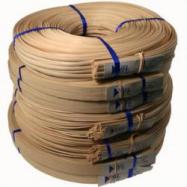 Yes, we have ALL SIZES of reed IN STOCK. No Back Orders!

We're proud to offer our customers Superior Quality Basket Weaving and Seat Weaving Supplies at Reasonable Prices. You'll never find "seconds" or "slightly hairy" at V. I . Reed & Cane Inc.


"When I received my reed this week I just wanted to throw away all my old reed (from other companies)! Yours is flawless. Perfect. Thank you so much." a very satisfied customer
Reed is sold by the "pound". A "pound" is the same as a "hank", "coil" or "bundle".
Click these links to our other types of reed: Round Reed Flat Oval Reed Half Round Reed Smoked Reed Flat Reed