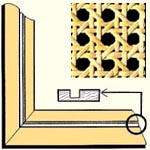 Pre-woven cane webbing for chair seats in 4 different patterns. Use cane webbing for chairs that have a groove (not drilled holes) around the perimeter of the chair.
Except for the 2 cane webbing kits, all cane webbing is priced by the running foot.
1 running foot = 12 inches. Example: 1 running foot of 18" cane webbing is 12 x 18". 2 running feet of 18" cane webbing is 24 x 18".
Remember: (Except for the 2 kits) The "QUANTITY" that you enter into the QUANTITY box = the NUMBER of FEET that we cut.
Be sure to buy WEDGES and SPLINE for your cane webbing project. These are at the bottom of this page. Free instructions will be included with your order.